DRK126 Solvent Moisture Tester
OTHERS
Product Code: DRK126
---
---
Delivery Charge:
Inside Dhaka (1-3 Days)
&nbsp &nbsp Advance Payment: 50
&nbsp &nbsp Cash on Delivery: 50
Outside Dhaka (3-5 Days)
&nbsp &nbsp Advance Payment: 70
&nbsp &nbsp Cash on Delivery: 100
Return & Warranty:
7 Days Returns
Change of mind is not applicable
---
Warranty not available
DRK126 Solvent Moisture Tester is applied to test the moisture content of packaging, medicine, printing, chemical fertilizer, food, light industry, chemical material as well as other industrial products.
Product Application
Organic compounds: saturated / unsaturated Hydrocarbon, Acetal, Acide, Acyl, Alcohol, stable acyl, Amide, Weak Amine and Anhydride, Disulphide, Lipid, Ether, Peroxide, Ortho-acid, Sulfite, Thiocyanate, Thioether.
Inorganic compound: Acid, Acidic Oxide, Alumina, Anhydride, Peroxy-copper, Desiccant, Hydrazine sulfate, Part of organic and inorganic salt.
Product parameter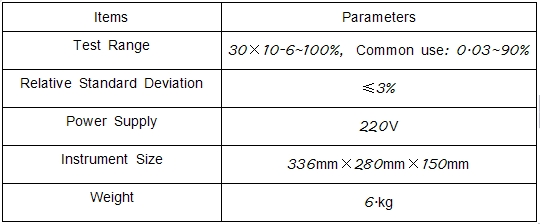 ​
Product features
Adopting advanced integrated circuit and micro-computer controlled circuit to ensure the intelligent of the instrument.
When reaching the full range, the alert will remind the operator to slow down the dripping speed, avoiding influencing the accuracy because of over capacity.
Just input the weight of sample and consumption of reagent and so on, and then press the percentage composition, the result will be displayed on the LCD digital screen. Simplified the complex calculation.
Digital display and keyboard operation interface, to ensure the convenient of the instrument.